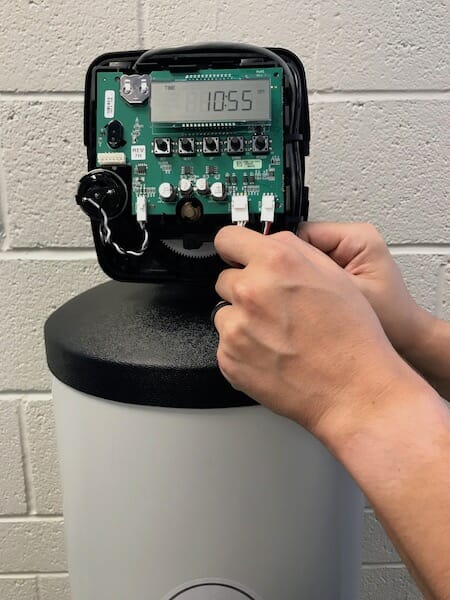 More often than not, your water softener works silently behind the scenes transforming your home's hard water into soft water. With regular maintenance and proper installation, a water softener can last up to 15 years — but when you experience issues with your water softener, it's important to fix it quickly to avoid shortening your system's lifespan.
While you can solve some water softener issues on your own, other problems will require the help of a professional. Next time you notice one of these issues with your water softener, consider these tips and tricks to solve it (with or without the help of a water softener expert).
Blockages or Clogging
The calcium and magnesium in hard water can leave chalky deposits on your pipes and fixtures — but it can also leave behind this same residue on your water softening system. Over time, an accumulation of these minerals and salt from your brine solution can clog the water line that runs through the tank of your water softener. 
A tell-tale sign that your water softener might be clogged is if the softness of your water changes considerably. If you are starting to see chalky deposits on your dishware and fixtures when you didn't have this issue before, this could be a sign that your water softener is clogged. 
How to Fix It
Clogs most often occur in two areas, including:
Valve Injector
The injector in your water softener can get clogged with debris over time. This can affect the water softener's ability to create suction for the brine cycle. The result is the softener cannot regenerate properly and you will get hard water. A typical way to know if you have a clogged injector is to check if the water in the brine tank is very high. 
To inspect the injector, pull it out with a pair of needle-nose pliers and see if you can look through the small opening in the injector. The hole is very small. If something is lodged in the small hole, use a needle or safety pin to push the debris out of the injector.
Brine Line
The brine line and valve may also become clogged with deposits. To check if a brine line clog is the issue, inspect it for any visible deposits that might be blocking water flow. If you spot a clog, you may need the help of a professional to clean the line without damaging your system.
Salt Bridges or Salt Mushing
A salt bridge forms when a hard crust develops in the brine tank, creating a space between the water and the salt. The salt is blocked from dissolving into the water to make the brine. 
There are several reasons for a salt bridge to form. Check on the conditions around the tank — high humidity or seasonal weather changes can cause it to clump. Low-quality salt with impurities can also lead to salt build-up.
Similarly, salt mushing can also cause issues with your water softener's performance. Instead of forming a crusty layer, the salt recrystallizes on the bottom of the brine tank, creating a salty sludge.
How to Fix It
Both salt bridges and salt mushing are DIY fixes. Follow the steps below to rid your water softener of salt bridges or mushing:
Break up the salt bridge with a broom handle.

Remove salt mushing by draining and cleaning the tank and refilling it with fresh salt.
Resin Replacement
The resin in your water softener does the hard work of capturing the minerals to make hard water into soft water through ion exchange. As the resin degrades, the capacity of the softener will be reduced. The softener then needs to regenerate more often to keep continuous soft water. 
If you see sand-like particles in the resin tank, it's time for new resin. The particles could damage the rest of the system, so if you see them, don't wait to fix it. Resin usually lasts about 20 years, but high levels of chlorine can shorten its lifespan.
How to Fix It
In the short-term, you can adjust your softener settings to regenerate more often and work more effectively. In the long-term, we recommend calling in a professional who can replace the resin and correct the problem.
Motor Issues
Like any appliance with a motor, your water softener's motor may fail and cause serious issues with the system's performance. The motor automatically rotates the valve between different modes such as softening and regeneration, so when it fails, the motor won't move the valve between modes.
If your water softener's motor fails entirely, the system will likely stop working. There are other things that can cause this, however, so it's important to check if a broken motor is really the issue.
How to Fix It
 

If your water softener stops working, check all the cables and settings to make sure there are no other problems unrelated to the motor.

If you suspect your motor has failed, contact a plumbing professional. They can confirm the diagnosis and replace the motor if necessary.

 

Check to see what the warranty is on the motor — you may be able to get a new motor installed at no cost if it is still under warranty.
Brine Tank Overflow
Your system's brine tank is crucial to its operation. The brine tank should have 8 to 14 inches of water in it when the brine tank is empty, depending on the capacity of the system and the salt setting. When salt is added the level will increase due to salt displacing the water. 
An overflowing brine tank may be due to a number of factors, including a brine line blockage, a malfunctioning valve, a clogged injector or a stuck float. 
How to Fix It
Most issues that cause an overflowing brine tank are DIY fixes, but you might need a professional's help in some situations. Follow these steps to troubleshoot your brine tank issue:
Check the brine line (which connects the tank to the control valve) to see if it's attached to the float inside the brine well.

Check the caps of the brine tank and brine well for a tight fit.

Check the brine line float for salt build-up.

The brine line valve can become clogged with debris from the water, so look for salt clogging inside the tank as well.

Check the drain line for any kinks or clogs.

The injector could also be obstructed, possibly with particles or debris.

A professional will need to clean or replace an injector.
Get Expert Help with Your Water Softener Maintenance
The easiest way to ensure your water softener works reliably is to have it regularly cleaned and serviced by a professional. If you run into issues between service appointments, however, make sure you follow the steps above to determine if you can fix it yourself or if it's a job for an expert.
If you suspect your water softener has an issue that requires a professional fix, contact our experts at Clear Water Concepts. We can help you troubleshoot and fix any issues with your current water softener and help you stick to a regular maintenance schedule. Plus, if it's time to replace your water softener, our team can help you choose the right replacement system for your needs and budget.